Except veggies all of us like chicken very much. But now a days we are avoiding it due to afraid of cholesterol level and weight gain. Here, we presenting you a low fat butter chicken dish which keeps you healthy and you can prepare it yourself in your kitchen. Below is the recipe and method how to prepare a tasty low fat butter chicken...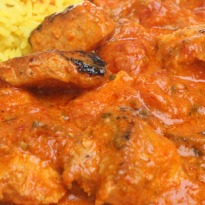 Ingredients
Chicken sliced / chunks- 400 gm
Onions- 4 large
Cinnamon sticks- 2-3
Laung / cloves- 4
Tej pata / bay leaf- 2
Garlic paste- 1 Tbsp
Cardamom- 2
Large red tomatoes- 5-6
Salt- as needed
Red chillies- 1/2 tsp
Coriander powder- 1/2 tsp
Haldi / turmeric- 1/4 tsp
Green chillies (slit from the middle and de seeded)- 3-4
Yogurt/curd- 1/4 cup
Oil- 2 tsp
Fresh coriander for garnish
Method
Put 2 tsp oil in a pan. Not too much cause there will be oil coming out of chicken as well.
Now add long sliced onion, cinnamon, tej pata, cardamom, garlic paste. Saute all this in oil nicely til the onion gets slight brown color.
Close flame and let the onions cool. Once they are little cool, blend all this with chopped tomatoes and the curd / yogurt till you have a smooth paste.
Note: Do not wash the pan in which onion was cooked before and let the left over oil of onions be in the pan.
Now take the earlier pan and saute chicken in left over oil of onion.
After chicken is almost done, add the onion, tomato/curd paste with chicken and cook.
Add salt, red chilli, coriander powder, haldi, green chillies.
Then, let chicken get cook until the oil comes out and starts floating on the top.
The color of the tomatoes should change to a nice red.
Garnish it with coriander leaves and serve it with rice, chapathi etc