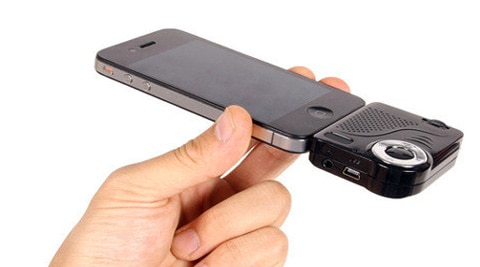 Don't run behind a projector to give a presentation, use your cell phone instead! Unbelievable???... Yes,you can believe, the new technology may be on its way.It is possible followed by the new light-bending silicon chip developed by researchers.
California Institute of Technology (Caltech) researchers developed the new light-bending silicon chip, which acts as a lens-free projector and could one day end up in your cell phone.
Integrated optical phased array (OPA) present in the new chip uses to project the image electronically with only a single laser diode as light source and mechanically moving parts are absent. The direction of the light beam can be controlled by the phase shifter,- a series of pipes for the light, and the OPA chip similarly slows down or speeds up the timing of the waves.
The timing of the light wave in that path can change by applying stronger or weaker currents to the light within the phase shifter to form an image, electronic data from a computer are converted into multiple electrical currents.
The light waves are then delivered to tiny array elements within a grid on the chip and the light is projected from each array in the grid,to foam the individual array beams combining coherently in the air and became a single light beam and spots on the screen.
As the electronic signal rapidly steers the beam from all directions i.e. left, right, up, and down, the light acts as a fast pen, drawing an image of light on the projection surface.
Researchers said "In the future, this can be incorporated into a cell phone. Since there is no need for a lens, you can have a phone that acts as a projector all by itself,"