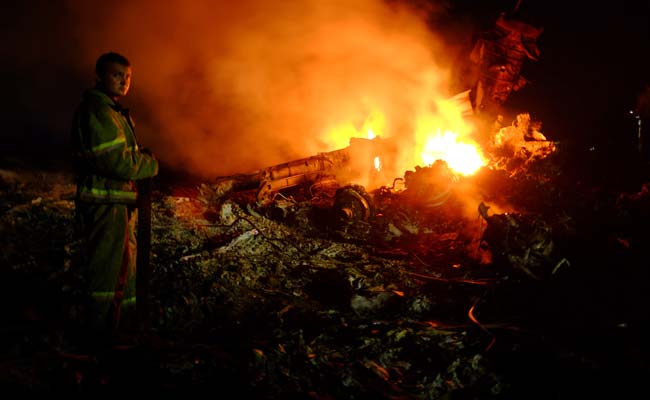 A Malaysia Airlines Boeing 777 with 298 people aboard with 3 infants and 15 crew members, shot down, exploded, crashed and burned on a flowered wheat field by a Russian SA-series missile, on Thursday in a part of eastern Ukraine controlled by pro-Russia separatists
Based on surveillance satellite data that showed the final trajectory and impact of the missile but not its point of origin and Ukraine accused the separatists for the incident that is called as terrorist attack in which everyone aboard was killed.
There were strong indications that those responsible may have thought wrongly what they had thought was a military aircraft only to discover, to their shock, that they had struck a civilian airliner. Meanwhile, adding to Ukrainian and Western suspicions that pro-Russia separatists were culpable, Ukraine's intelligence agency,SBU - the State Security Service, released what it said was audio from intercepted phone calls between separatist rebels and Russian military intelligence officers on Thursday.
According to a translation of the Russian audio by the English-language, its a conversion of a separatist commander and militiamen which says :
"We have just shot down a plane."
And in another call they says,
"No sign of military equipment". Asked if there are any weapons, he says: "Absolutely nothing. Civilian items, medical equipment, towels, toilet paper."
Asked if there are any documents among the debris, the man says, "Yes, of one Indonesian student."
However, a Ukrainian journalist in Kiev, said that the voices in the audio sounded shocked by what they found in the wreckage.
It was the second time within months that Malaysia Airlines had suffered a mass-casualty flight disaster with international intrigue, and with the same model plane, a Boeing 777-200ER.
Aviation officials revealed that the aircraft had been traveling an approved and heavily trafficked route over eastern Ukraine, about 20 miles from the Russia border, when it vanished from radar screens at 2:15 p.m. local time, with no distress signal.
Whatever the cause, the news of the crashed plane, with a passenger manifest that spanned at least nine countries, elevated the insurgency into a new international crisis.