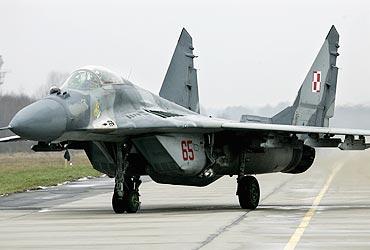 During operations in Arabian Sea off the coast of Goa, the MiG 29K naval combat aircraft has suffered damage while landing on the aircraft carrier INS Vikramaditya, said by the Navy officials on Thursday.
The incident held in Goa on Wednesday while landing on the aircraft when it carried out a 'hard-landing' causing damage to the nose-wheel undercarriage. The pilot of the aircraft is safe and the detail of the accident being assessed, said the officials.
The Navy has ordered a Board of Inquiry (BoI) into the incident on the aircraft carrier procured from Russia at a cost of over Rs 15,000 crore.
Navy officials said that in the incident the pilot missed the first two arrester wires used as aid by the pilot for landing on the carrier and while he was trying to take off again, it got stuck in the third arrester wire causing a hard-landing.
MiG 29K naval combat aircraft has Russian origin, which has been procured by India and India is the only country in the world which operates these twin engine naval fighters. Moreover, India also ordered for 45 of these aircraft and this is the first accident involving these aircraft.