Smoking is a common physical and psychic health problem in India. But the fact women also included in it is unbelivable, especially fabulous heroines who are the role model of some girls. We have witnessed a number of actresses smoking on screen and however it is a habit for some mainstream actresses i their real life. Let's have a look at the actresses who smoke in real life.
Sushmita Sen
Beauty queen Sushmita Sen again been found smoking in public and seems totally unapologetic about it. The actress says she has chosen this on herlife style, its a mandatory in her life and would quite if she feels she should.
Rani Mukerji
Rani mukarji, the girl of our next door, is one actress you wish would never smoke, but the truth is she can't start a day without smoking.
Though her family does not approve of this habit, she tried a lot to quit the habit but all her efforts has always back fired. In an interview Rani also hinted that whenever she tried, she has failed to keep her promise with her family she has had arguments with her family over this. We wonder if the Chopras are fine with this!!
Kangana Ranaut
Kangana Ranaut is famous for pipe smoking roles in the movies as well as real life. In films like Fashion, Tanu Weds Manu and Gangster, she's played the troubled female protagonist. But very few know that the actress is a chain smoker in real life too. Kangana even stood up openly against the ban on smoking. She said smoking is a personal choice and should never be banned.
Konkana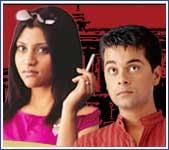 Konkana is one such actress who is known for breaking all stereotypes it did not really come as a surprise when we got to know that the actress is a chain smoker in real life. The actress itself revealed in an interview that she found it extremely difficult and irritating to control her urge to smoke while she was pregnant with her first child. Konkona, wife of actor Ranvir Shorey.
Manisha Koirala
That Manisha Koirala is a chain smoker, is not secrets but what the actress did on her wedding day was totally unimaginable. at the day, while brides are supposed to be shy and coy on their wedding day, actress Manisha Koirala in her wedding dress, was clicked puffing away with friends on her wedding day,. More than her wedding. But after survived from cancer and suffered through it, the actress has finally decided to lead a decent life - minus all bad habits, which also includes smoking.