The incidents happened to Aiswariya and presently to Vidya Balan shows its true,, that their is no place for a pregnant actress in Bollywood.Pregnancy is turning out to be a bane rather than boon in for the actress.
Reports said that director Sujoy Ghosh has also replaced his favourite actress Vidya Balan with Kangana Ranaut in his upcoming film Durga Rani Singh'.It may be followed by the infamous fallout of Madhur Bhandarkar-Aishwarya Rai Bachchan in 2011. About that incident Madhur Bhandarkar said that he incurred a loss of Rs 4 crore because the truth was hidden. He even hinted that he would not have started the film, if he know about her pregnancy. He wrote on his blog, "The entire event would not have taken place if on the onset the actress would have informed the state of her health an impending maternity... We learnt about the entire thing from news channels like the rest of the world that the said actress was 4-month pregnant and she was due in November."
However, Sujoy Ghosh, who has worked with Vidya Balan in Kahaani', will not wanna be a looser as Madhur Bhandarkar. He broke everyone's expectation and now all set to roll out his next film titled Durga Rani Singh' with Bollywood's Queen' Kangana instead of Vidya Balan, his Kahaani' star.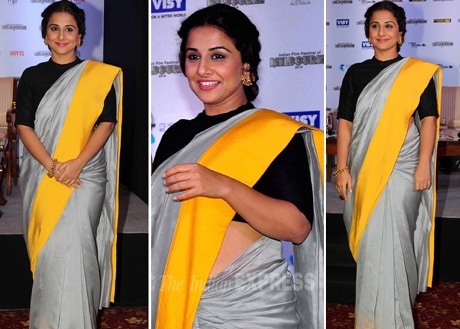 Vidya Balan recently wrapped up the shoot of Dia Mirza's debut production Bobby Jasoos' and has no other films in hand at the moment.
At the same time, veteran actress Hema Malini in an interview to Mid-Day explode her view. She said, "Today the no pregnancy clause should be made mandatory, but only for a certain time period, say a maximum of six months. If the artiste gets pregnant before the film goes on the floors, she should inform the producer. But if the film gets delayed for other reasons, then it's wrong to expect the actress to wait. She can't be held responsible in such a situation."
Producer Ramesh Taurani has different view about the issue, he says that it's alright for an actress to give importance to her personal life. "At the end of the day, it is just about a film and I don't think it's a big deal. If a film hasn't gone on the floors, the question of monetary loss does not arise at all."
Meanwhile, prejudice against pregnant actresses is not only an issue in Bollywood, but also in Hollywood too. Actress Halle Berry's role in the upcoming 'X-Men: Days of Future Past' movie has been cut down to just one scene because she was pregnant with her second child.