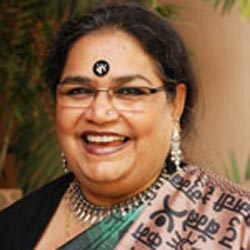 The pop singer and a powerhouse of singing talent, Usha Uthup, has lent her voice for the title track of the movie 'Revolver Rani', which features Kangana Ranaut in the role of a gangster woman.
a source associated with the project said "Usha-ji has sung the title track of `Revolver Rani`. We wanted someone who had a husky deep voice and who better than Usha-ji to sing for us! In fact, this is the first time that she is singing for Kangana and both of them are equally happy to be associated with each other."
'Revolver Rani' will hits theaters probably on 25th April 2014.