Many car companies are all set to introduce new cars to Indian industry. The most talked four among the list are given here.
1. Tata Bolt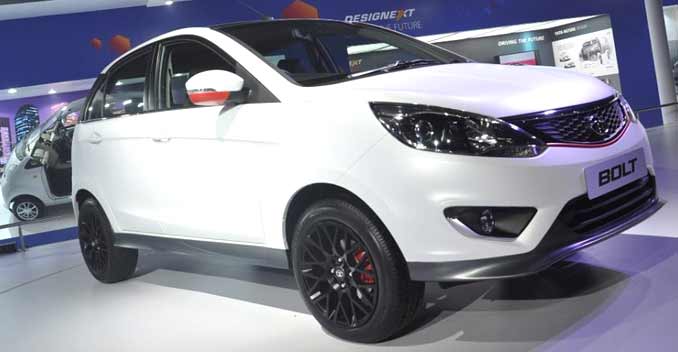 Expected price: Rs. 4.2 Lakh - Rs. 6.6 Lakh
Expected launch: August, 2014
Based on the Vista X1 platform, the Tata Bolt continues to be as wide and tall as the Vista. It adds 30mm to its length, thanks to the extended hood, while the wheelbase is identical to the Vista's 2470mm. Tata has stated that the name Bolt signifies speed and represents a winner's attitude. The car is expected to be launched in July.
2. Renault Duster Facelift
Expected price: Rs. 8 Lakh - Rs. 12.28 Lakh
Expected launch: September, 2014
The facelift of the Renault Duster's Dacia twin debuted at the 2013 Frankfurt Motor Show, and Renault Duster was unveiled soon after. The facelifted Duster features a host of cosmetic changes including a dual-tone chrome grille, large air-dams, revised headlamps with double-optic units and daytime running LEDs, under body cladding, chromed exhaust pipe in rear diffuser and new tail lamps. It is expected to arrive in India by September.
3. Mercedes-Benz GLA
Expected price: Rs. 27 Lakh - Rs. 30 Lakh
Expected launch: September, 2014
The GLA concept car was first unveiled at the 2014 Shanghai Motor Show in April and is now all set to reach Indian dealerships by September this year. Beginning May, Mercedes-Benz dealers in India had started accepting bookings for the compact SUV's GLA 200 CDI variant. This indicates that the first GLA variant to land in India will be powered by a 2.1-litre diesel motor that makes 135bhp and 300Nm of torque. It will come mated to a 7-speed dual-clutch gearbox.
4. Tata Zest
Expected price: Rs. 4.5 Lakh - Rs. 7.6 Lakh
Expected launch: July, 2014
The Tata Zest compact sedan is the second car in Tata Motors' crop of new generation of vehicles. Like the Tata Bolt, Zest is also based on the Vista X1 platform. It shares a handful of similarities with the Bolt hatchback in terms of design; the side profile remains the same up to the C-Pillar. Thanks to the boot, the two cars still manage to look different.