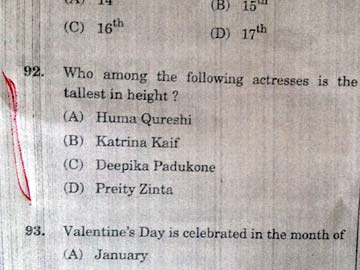 A question during the exam, conducted to make appointments in central ministries and other government departments, gifted the candidates fun and confusing moment. The question was which Bollywood actress was the tallest and gave a choice of four.
However, the Staff Selection Commission or SSC, which runs the exam has apologised for the question.
Today, in a statement SSC chairman A Bhattacharya said, "It is improper, abominable, substandard... we are very upset and deeply sorry."
Women's Commission in Kerala has demanded an explanation for what is being severely criticised as a "gender insensitive" question paper for the combined graduate level examination.
The question on Bollywood was in a multiple choice section between a question on this year's Lok Sabha elections and one on the month in which Valentine's Day is celebrated. The candidates were asked who was the actress "tallest in height" among Huma Qureshi, Katrina Kaif, Deepika Padukone and Preity Zinta.
In another section of the paper tested the deductive reasoning of candidates with the strange statement: "All women are cats, All cats are rats."
About this Mr Bhattacharya explained that no one at the SSC had set the paper. Local teachers were appointed to set a bank of questions and a panel of experts chose from these to set a final paper.
Women's Commission demanded that the two controversial questions not be considered for evaluation and SSC has agreed to the demand