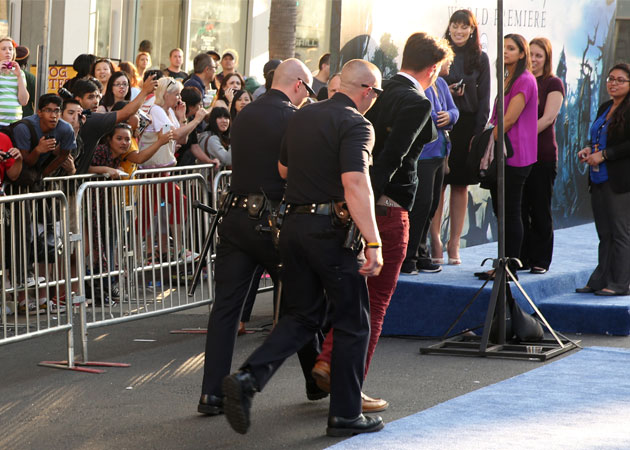 At the premiere of Angelina Jolie movie, a man allegedly rushed and touched Brad Pitt, superstar of Hollywood and the better half of Angelina Jolie. The man who made the seen was arrested and is a habitual prankster, said the police. He is a former Ukrainian journalist with a history of getting too close to celebrities.
Vitalii Sediuk, the same person was jailed on Wednesday on suspicion of misdemeanor battery at the El Capitan Theatre in Hollywood and was held in lieu of $20,000 bail, police said.
However, recently, Sediuk rushing America Ferrara on a red carpet at the Cannes Film Festival and crawling under her dress.
Also, he previously crossed the line with celebrities, crashed the 2013 Grammy Awards and was arrested after he went onstage and grabbed a microphone before Adele accepted an award. He pleaded no contest to trespassing and remains on probation.
Will Smith slapped Sediuk after he tried to kiss him on a red carpet, and he drew Madonna's ire a year earlier by presenting her a bouquet of flowers in 2012.
Moreover, in the recent incident, Sediuk is accused of jumping over a barrier in a fan area and rushing at Pitt along the red carpet, touching him briefly before security guards wrestled Sediuk away in handcuffs. Pitt was apparently unhurt and resumed signing autographs before walking into the theater.
Sediuk lost his job with the incident at the Cannes films festival, where he rushed into actress America Ferrera`s dress within 30 seconds. He worked for Ukrainian television channel.
The latest incident might constitute a violation of Sediuk's probation, Attorney Anthony Willoughby, the lawyer said. "He's not a violent individual," Willoughby said. "He's an easygoing young man."
Christa Scherck, who who worked with Sediuk for the past two years, said she was severing ties with him after his arrest. She said she was never aware of his prank plans.
"This goes beyond pranking, this is no longer entertaining." She said.