Can you imagine a Honeymoon trip for 675 days??? No way....may d replay for sure. But, Anne and Mike Howard gifted themselves a suitcase full of adventures and romance over two years in 6 continents and in 33 countries.
The newlywed couples quit their jobs, rented out their apartment and packed their bags for a trip around the world. They traveled in South America and enjoyed the Carnival in Rio de Janeiro- the ultimate party. Also, went through the forests of Africa and they done crash course in the Japanese arts in Asia. They signed up for a Thai cooking class and even traveled to Oceania and Europe.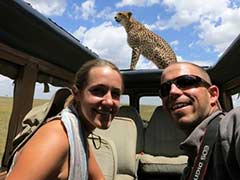 After two years, they came back home with a life-time of memories and they decided to share their experiences. So, they developed a website for the same and have a new profession - Honeymooner, which was never heard before.